Tom Glavine Facts:
Full name: Thomas Michael Glavine
Height: 6'0"
Weight: 185
Born: 3/25/66 at Concord, MA
Resides: Alpharetta, GA
Bats: Left
Throws: Left
Jersey Number: 47
Contract Status: Signed through 2001 with option for 2002
Acquired: Was the Braves' 2nd round selection in the 1984 June free agent draft
Shoe Size: 9 (Just had to throw in a fun fact there :-)
Married, his wife's name is Christine
Has a daughter, Amber Nicole (born 1/24/95), and a stepson, Jonathan (born 9/7/95)
Was a 1984 graduate of Billerica (MA) Memorial High School where he played baseball and hockey
Was a four-time league All-Star and All-Conference honoree in baseball and was named to All-Star and All- Conference teams three times in hockey
Earned Boston Globe All- Scholastic and Player-of-the- Year honors in both baseball and hockey
Was drafted by two professional sports teams, in 2nd round by the Braves of the MLB and in the 4th round by the Los Angeles Kings of the NHL
Has volunteered his time as a member of the National Sports Committee of the Leukemia Society of America. He has helped raise several thousand dollars as honorary chairman of the Georgia Council on Child Abuse.
Welcome to Andrea's Tom Glavine Page!
"All I do is win. But if you aske people to list the top five pitchers in baseball, I wouldn't be on four of the five lists...But you're going to look up at the end of the game and, more often than not, I'm going to beat you." Tom Glavine, who says he doesn't mind the spotlight shining on teammate Greg Maddux but wouldn't mind some of his own accomplishments being recognized. (USA Today, July 1998)
Although I'm a fan of all the Atlanta Braves pitchers, I have to admit that Tom Glavine is my favorite. I think what I like so much about him is that he's always fighting -- he will never give in to a hitter. I also admire him for all of the charity work he does. Oh yeah, and he's pretty good looking, too :-) I know he hasn't exactly had the greatest season so far, but he's had a couple of bad breaks and I think he'll look like a Cy Young winner again soon.
Here is his personal info, one of my favirite pictures of Tom, and some Glavine links that I visit regularly.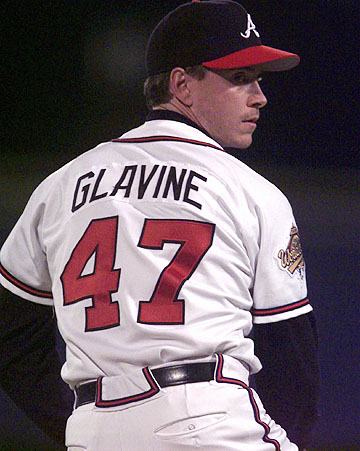 Some of my favorite Tom Glavine links:
Andrea's Tom Glavine Photo Album: A collection of some of my favorite Glavine pics
Tom Glavine: True Ace: Lots of little-known facts about Glavine, quotes, and pictures from Turner Field
Tom Glavine: Good site with lots of facts, stats, and a chat room
The Tom Glavine Web Page: Page by Scoop
Tom Glavine by Step: Includes stats, pictures,"notables," and season summaries
Bigleaguers.com:Tom's Bigleaguers page

This page has been visited by

Glavine fans.

[Index] [The Atlanta Braves] [Country Music] [Horse Racing] [Ben Grieve] [Links] [Me]
[Webrings] [Awards] [Ryan Klesko] [The Ryan Klesko Discussion List] [The Ryan Klesko Webring] [Message Board] [Javy Lopez] [Tom Glavine] [The Big Cat]