Visit some of my favorite Javy sites:
Andrea's Javy Photo Gallery: See some of my favorite pics of Mr. Lopez
The Javy Lopez Mailing List: Katie, a friend of mine, has created a mailing list for Javy
Javy8Girl's Place 'O' Obsession: After you've joined Katie's Javy mailing list, check out her homepage
JLSS-Javy Lopez Super Shrine: This is the ultimate Javy site!
BlackRose's Javier Lopez Shrine: If you're a female who loves to drool over Javy, this is the page for you!
The Javier Lopez Fan Page: Includes pictures and info about Javy, and a nifty Javy theme
CNNSI's Javy Page: Full of stats!

This page has been visited by

Javy fans--or Katie has been here that many times to drool over the pictures.

[Index] [The Atlanta Braves] [Country Music] [Horse Racing] [Ben Grieve] [Links] [Me] [Webrings] [Awards] [Ryan Klesko] [The Ryan Klesko Discussion List] [The Ryan
Klesko Webring] [Message Board] [Javy Lopez] [Tom Glavine]
[The Big Cat]
Welcome to Andrea's Javy Lopez page!
Since I'm making webpages for all of my favorite Atlanta Braves, Javy definitely gets his own page since he's my second-favorite Brave. I think Javy is the best catcher in the National League. He had a career-year in 1998 and was named to the All-Star Team. He was having a great 1999 season as well untill he injured his knee. Can't wait to see him back with the Braves in 2000!
As with all of my pages, this will be permanently under construction. For now, take a look at a great picture of Javy, his stats, and some links I really like.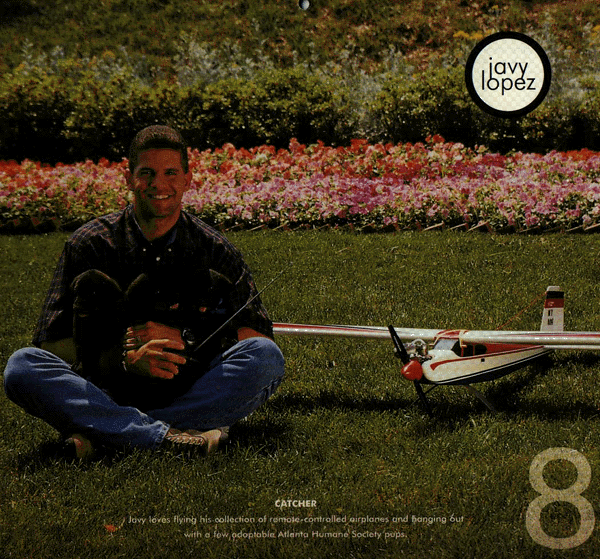 BTW ... this pic is from the 1999 "Braves and their pets" calendar. Sorry it didn't scan great!
Javy's Vital Stats and Personal Info (courtesy of bigleaguers.com and the official website of the Atlanta Braves)
Full name: Javier Torres Lopez
Jersey number: 8
Date of Birth: 11/5/70
Place of Birth: Ponce, Puerto Rico
Residence: Ponce, Puerto Rico
Height: 6'3"
Weight: 200 lb
Bats: Right
Throws :Right
Years in Majors: 7
Contract Status: Signed thru 2001
Acquired: Signed by the Braves as a non-drafted free agent on November 6, 1987
Signed by Jorge Posada and Pedro Gonzalez
Married, wife's name is Analy
One son, Javier Alexander, born 11/6/95
Attended Academia Cristo Rey in Urb La Ramble (P.R.) where he participated in baseball, track and volleyball
Named Ponce's Athlete-of-the-Year from 1984-87